Svarta ljud—med filmvisning av "One Table Two Elephants". 9 oktober klockan 18:00-20:15 på ABF-huset, Katasalen, Plan 1, Sveavägen 41.
Bboy-kollektivet Mixed Mense och hiphopartisten Emile YX? från Kapstaden, Sydafrika, besöker Stockholm på deras turné genom landet för att prata om svart radikal praktik för undervisning och mobilisering. Entré: Gratis för studenter, pensionärer, arbetslösa och skolungdomar. Alla andra, 40 kr vid dörren. Film och samtal på engelska.
The Bboy-collective Mixed Mense and hip hop artist Emile YX? from Cape Town, South Africa, are visiting Stockholm on their tour to talk about their black radical pedagogical practice and mobilisation. Free for students, retired, unemployed, and school youth. Everybody else, 40kr at the door. The film and conversation will be in English.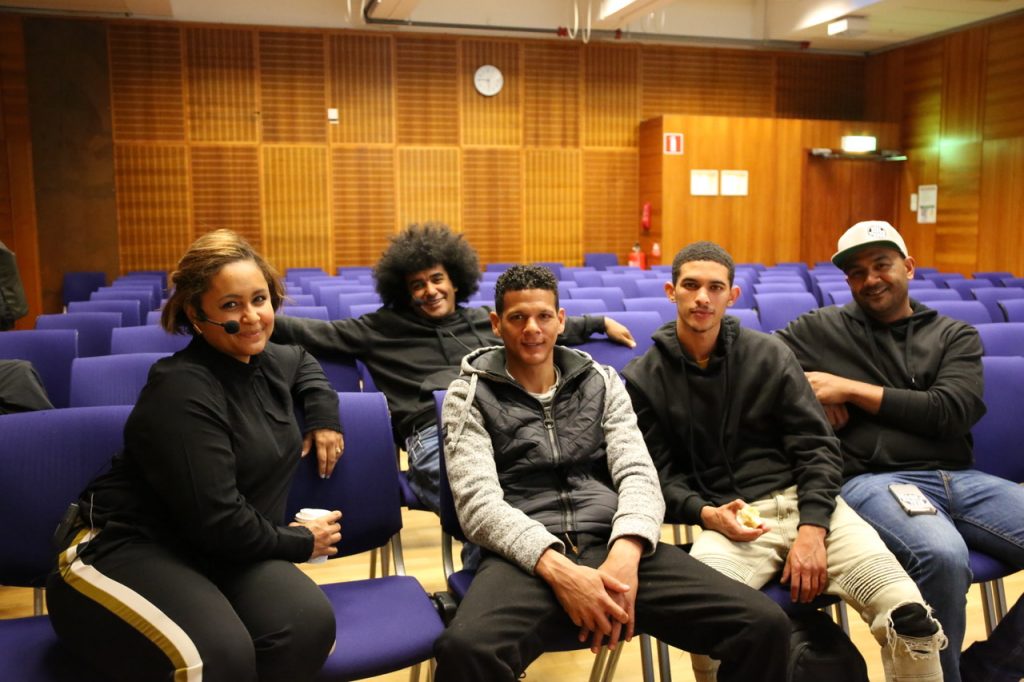 Emile Jansen grundade Black Noise, en av Sydafrikas första politiska hiphopgrupper som skrev och framförde hiphopens fem element mot rasism, kapitalism och förtryck. Emile studerade till lärare och grundade Heal the Hood för att arbeta med ungdomar på Cape Flats och göra dem medvetna om historia, demokrati och aktivism. Mixed Mense har utvecklat denna praktik genom att under många år lära barn och ungdomar om musik, dans, kroppar, hiphop, svart historia och ursprungsbefolkningen Khoisan.
Emile Jansen är en av grundarna av den politiska hiphop som utvecklades i Kapstadens segregerade förorter och townships på 1980 och 90-talet. Tillsammans med gruppen Mixed Mense bestående av yngre hiphoppare och organisationen Heal the Hood har Emile utvecklat en radikal pedagogik med målet att göra unga i Kapstadens förorter stolta skapare av "svarta ljud" ("making a black noise"): att göra det marginaliserade och utstötta till det centrala.
Kvällen inleds med att Emile Jansen introducerar filmen One Table Two Elephants (84 minuter) som utspelar sig i Kapstaden och som Mixed Mense har medverkat i. Filmen undersöker kunskapens politik i en postkolonial och segregerad stad och placerar Mixed Menses pedagogik i ett vidare sammanhang. Efter filmen kommer Mixed Mense att tala om svarta ljud, konst, praktik och politik med Issra El-Kogali Häggström, filmskapare och aktiv i TRYCK, en organisation för afrosvenska kulturarbetare. En central fråga är hur Mixed Menses praktik som gör marginalen/orten till det centrala i staden också måste ha—och redan har—en aktiv politisk kraft i Stockholm?
Filmen pågår mellan 18.00-19.30 med samtal efteråt 19.30-20.15.


Medverkande:
Emile Jansen, Heal the Hood, Creative Director
Stefan Benting, Mixed Mense, dansare och pedagog
Charlie Eiftha, Mixed Mense, dansare och pedagog
Tanswell Jansen, Heal the Hood, Managing Director
Issra El-Kogali Häggström, TRYCK, filmskapare som bl.a. gjorde In Search of Hip Hop, en dokumentär från Sudan som visats vid Rotterdam och Dubais film festivaler. Hon är också medarrangör av filmfestivalen CinemAfrica under flera år.

Filmens regissörer kommer också finnas med under kvällen:
Jacob von Heland, KTH, The Situated Ecologies Platform
Henrik Ernstson, Universiteten i Manchester och Kapstaden, The Situated Ecologies Platform.
Om filmen:
Filmen One Table Two Elephants har gjorts av Jacob von Heland och Henrik Ernstson. Den hade sin världspremiär vid CPH:DOX Köpenhamns internationella filmfestival den 20 mars 2018 där den var nominerad till Nordic Dox priset. Filmen har också visats och blivit nominerad till bästa dokumentärfilm vid festivaler i Kapstaden, Tirana, Nijmegen och Stockholm och en kortare version har visats och diskuterats i Windhoek, eThekwini/Durban, New York med flera. Filmen släpps för undervisning och allmänheten i februari 2020. För en trailer, see här.
Seminariet är arrangerat som ett samarbete mellan ABF, Heal the Hood, TRYCK—en medlemsförening bestående av kulturarbetare ur den afrikanska diasporan, och Situated Ecologies-plattformen vid KTH och Universitet i Manchester.
Kontakt: Henrik Ernstson (mejladress genom att söka på Universitet i Manchester eller KTH).