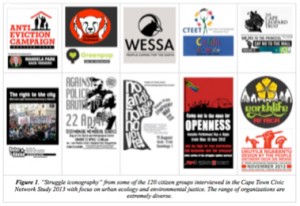 This is a belated report on an event that was organised by Marc Lubell at UC Davis who runs the Centre for Environmental Policy and Behavior, with some really good edge on making impact with their research (read some of their great posts). In October 2013 I was invited with Mario Diani and Lorien Jasny to present our work on the Cape Town Civic Network Study. It was a really successful event and this is just to acknowledge Marc for making this possible.


Our presentation focused on giving the audience of scholars and PhD students some insights to the methodology we have used to interview over 100 civil society organisations in Cape Town and what the challenges have been. This was followed by preliminary analysis coming out of the network data that was generated through these interviews. Later this year (2014) we will do follow up focus group interviews with spokespersons and in 2015 follow up with a larger conference with civic associations in Cape Town around urban environment, alliance building, local democracy and justice.
At UC Davis we had the chance to meet with students and discuss our work. It was a great pleasure. Here is Marc's posting of our presentation at UC Davis below and some of the slides we used.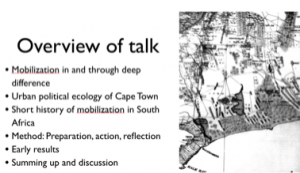 Environmental Collective Action in Cities of the Global South: The Cape Town Civic Network Study, 10/18/2013
Event:

Environmental Collective Action in Cities of the Global South: The Cape Town Civic Network Study

Series:

Institute for Governmental Affairs Colloquium

Description:

This seminar focuses on a project that is investigating civic networks and contested urban environments in Cape Town, South Africa. "Theoretically, we will describe a relational and structural approach to study civic collective action and environmental justice in urban areas," the presenters said. "We reflect on early results and the challenges involved in translating the original methodology developed for Euro-American cities, to a post-apartheid and highly segregated city of the global south."

The study is part of a broader effort to conceptualize and analyze socioecological movements. Learn more here, on the Situated Ecologies website.

Mario Diani — sociologist and social movement scholar, Trento University, Italy
Henrik Ernstson — urban political ecologist, African Centre for Cities at the University of Cape Town and Department of History, Stanford University
Lorien Jasny — mathematical sociologist and social network analytical expert; postdoctoral fellow, National Socio-Environmental Synthesis Center, or SESYNC, University of Maryland; formerly a postdoc under UC Davis' Mark Lubell, professor, Department of Environmental Science and Policy, and director, Center for Environmental Policy and Behavior

Starting date:
10/18/2013      Ending date:   10/18/2013
Starting time:
12:00 PM      Ending time:   1:00 PM
Event type:

Seminar

Location:

3001 Plant and Environmental Sciences Building

Sponsored by:

Institute for Governmental Affairs, Department of Environmental Science and Policy, and Center for Environmental Policy and Behavior