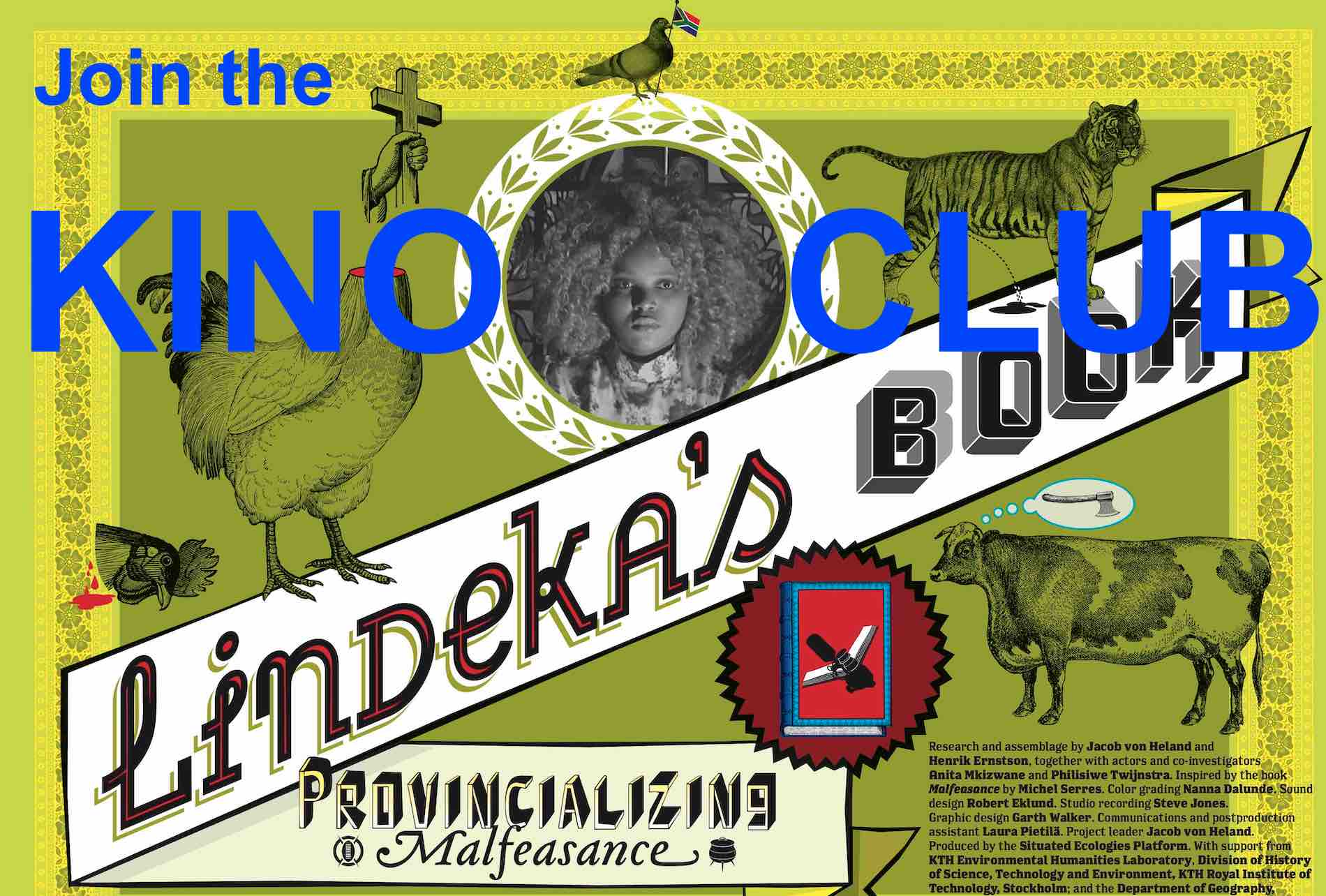 How to use film in the Environmental Humanities? What does screening a film mean? How is film also research? These questions have been part of our project Visual Environmental Humanities and during the Streams Environmental Humanities Conference at KTH in Stockholm 3-6 August 2021, we had the chance to try out the old-new format of a Kinoclub to explore some of this questions in relation to our new film LINDEKA'S BOOK, which is the second of our trilogy of films from South African cities:
Inspired by the Kinoclub (e.g. Benoit-Lévy, Bazin, Beograde Kinoklub, Terrassen Copenhagen), as a venue to meet and discuss film as a living social expression, we use this session to specifically explore the potential of film and film screenings for the Environmental Humanities. We will engage with the film and cinematic ethnography "Lindeka's Book," filmed in eThekwini-Durban, South Africa. The film is made by the kinoclub organisers Jacob von Heland & Henrik Ernstson together with artist, DJ, and psychologist Anita Mkizwane and writer-stage director Philisiwe Twijnstra.
We had the great opportunity to invite Madina Tlostanova, Professor in Postcolonial Feminism and decolonial thinker at Linköping University, Stefania Barca, Professor and leading scholar on environmental justice and environmental humanities, Garth Walker, artist and graphic designer, and Dipesh Chakrabarty, Professor of History at Colombia University.* 
There was great engagement with Lindeka's Book from all participants which has already led to more engagements with an invitation from Madina to teach her students in Linköping from the film. While regular teaching has started for us, we still hope to write up a shorter reflection of the session. We also hope to post a shortened version of the recorded Kinoclub which took place digitally. 
Below is the our description of the Kinoclub format which we hope to develop further.
Format: The kinoclub will occur during the Streams conference as an artistic intervention. It will follow a digital format and last for roughly 1,5 hours during which the participants together with the audience will screen and discuss scenes from the film. The organisers will introduce excerpts of the "film-of-ideas" "Lindeka ́s Book" (the film is in postproduction, Official World Premiere set to 2022, 84 min, von Heland and Ernstson) after which the guests and organisers will show short select scenes from the film to structure a discussion about the potential of using film to excavate embodied histories and narratives of our postcolonial world to enrich and problematise the Environmental Humanities. The organisers will provide three scenes as a way of introducing the film for those who have not seen the full film before the session. This is followed by scenes that the participants have selected because they like them, find them perplexing, problematic, or frustrating—or that merits discussion. As in any kinoclub, participants have quite free hands
Lindeka ́s Book (84 min) Synopsis: In eThekwini the young woman Lindeka begins reading "Malfeasance" (2011). In this essay the French philosopher Michel Serres fleshes out an original take of the modern planetary present, not as something that came about with the advent of agriculture, the industrial revolution or even the postwar "great acceleration." To Serres, with a wink to Dominic Laporte, this is a story about how humans of every day and age have used practices of violent pollution to appropriate and create property. Serres philosophy of the body and its ecologies playfully writes against social contract theory, and Lindeka is fascinated. But she also finds Serres ́ linear narrative disturbing for what it omits: Where is Durban, or even Africa in his universalising history of this man-shaped planet? Lindeka makes her own history of difference and global planetary study. But not through writing, but through filmed thought. Lindeka and her filmmaker-friend Vinola set about "provincializing" Malfeasance by reading Serres from the locus of eThekwini, thereby allowing people of her postcolonial port city to speak their mind on ownership and environmental concerns. The result is Lindeka ́s Book – an image-book – set in a decolonising moment in South Africa where the audiovisual registers play along with, but also trouble the text, the spoken word as an active remain of Eurocentric thought. Present in the film is also the archival font work by graphic designer Garth Walker, developed from street signs of KwaZulu-Natal.
*) Dipesh Chakrabarty unfortunately had to cancel his participation.