One Table Two Elephants (2014-2018)
The cinematic ethnography documentary film One Table Two Elephants (84 min, CPH:DOX, 2018) has been a major effort and output from The Situated Ecologies Platform.
Here we broke new ground on how to engage and represent urban nature and knowledge politics in the postcolonial city. But we also developed a platform for "film-as-research" which has included to learn skills and project planning, the dialectics of public screenings of "first-cut" versions while editing the film,  and elaborated a practice of cinematic ethnography.
Since its world premiere in 2018 at one of the most prestigious documentary film festivals, the CPH:DOX in Copenhagen, and later its African Premiere at the Cape Town International Film Festival, the film has been nominated to several prizes and screened also at film festivals in Tirana, Nijmegen and Stockholm. The film is used in teaching in Australia, South Africa, Sweden, USA, and the UK. We will release it for the public during 2020 and during 2020 we are working to integrate the film as a teaching tool in high schools in Cape Flats, Cape Town. See a 5 minute teaser below.
If you like to see the full version, contact Jacob or Henrik. (This film-based research project is now finished.)
Background
The film is created by Jacob von Heland and Henrik Ernstson and filmed in Cape Town. The film project started in 2014 and was originally part of a Communication Grant from Swedish Formas (PI Jacob von Heland) as an extension of the Ways of Knowing Urban Ecologies research project (PI Henrik Ernstson, Formas). Later it also formed part of another project, Towards Visual Environmental Humanities (PI Jacob von Heland, Swedish Reserach Council). The research before starting the film project was based on extensive ethnographic work in Cape Town carried out since 2010 by Henrik Ernstson in his postdoctoral work and in the Ways of Knowing Urban Ecologies project. Working together, and using the camera, Jacob von Heland and Henrik Ernstson further developed and deepened this ethnographic work. The film was planned during 2014 with filming taking place with all participants during some intensive weeks in January and March in 2015. This was followed by producing a "first cut" version ready for a conference at Stanford University in May 2014. From 2015-2018 editing and test-screenings for different audiences was carried out until the final film. Main editor during this time was Jacob von Heland, assisted by Henrik Ernstson.
Audience, screening, and festivals
During 2015, 2016 and 2017 the 47 minute "first cut" version has been seen by several hundred people—students, scholars and the general public in nine different cities in Africa, Europe and North America, including Windhoek, Stellenbosch, Grahamstown, New York, Palo Alto, Rome, Munich, Trier, and Stockholm. The rich and textured material, which is edited without a voice over, makes present how multiple histories are interrelated across the city. The film  provides possibilities for laymen to experts to reflect and deliberate over how a city and its environments can be known and their inherent politics. The full-length 81 minute version of the film is planned to be screened at film festivals in Africa and Europe during 2018.
The "first cut" version have been screened and discussed at the following venues:
Stanford University, Palo Alto, USA, May 2015
KTH Royal Institute of Technology, Stockholm, Sweden, August 2015
Stellenbosch University, Stellenbosch, South Africa, November 2015
Namibian Technical University (NUST), Windhoek, Namibia in March 2016
Universtá di Roma Tre in Rome, Italy, September 2016
Rachel Carson Centre, Munich, Germany, September 2016
New York University, New York, USA, at the Deutsches Haus, 3 April 2017
University of Trier, Trier, Germany, 8 June 2017
Accolades: 
Credits
One Table Two Elephants — Created by: Jacob von Heland and Henrik Ernstson. Photography: Johan von Reybekiel. Sound: Jonathan Chiles. Assistants: Nceba Mangesi and Jessica Rattle. Funding: Swedish Formas & Markus and Amalia Wallenberg Foundation. Produced by: Telltales Film and The Situated Ecologies Platform in collaboration with the KTH Environmental Humanities Laboratory in Stockholm and the African Centre for Cities the University of Cape Town. Funded by: The Swedish Research Council Formas and the Markus and Amalia Wallenberg Foundation.
The film was made by many hands, feet and heads. Our co-knowers in Cape Town are: Bradley Sitters, Bridget Pitt, Charlie Mbalanda, Dave Halkett, Dieter Schlange, Emile YX Jansen, Fagmee Jacobs, George Davis, Gregg Oelofse, Kelvin Cochrane, Leeroy Philips, Lance van Sittert, Mr Isaacs, Nceba Felix Mangesi, Patricia Holmes, Philip Bam, Stefan Benting, Thola Antamu, Tim Hart, Tanya and Andrea Eckstein.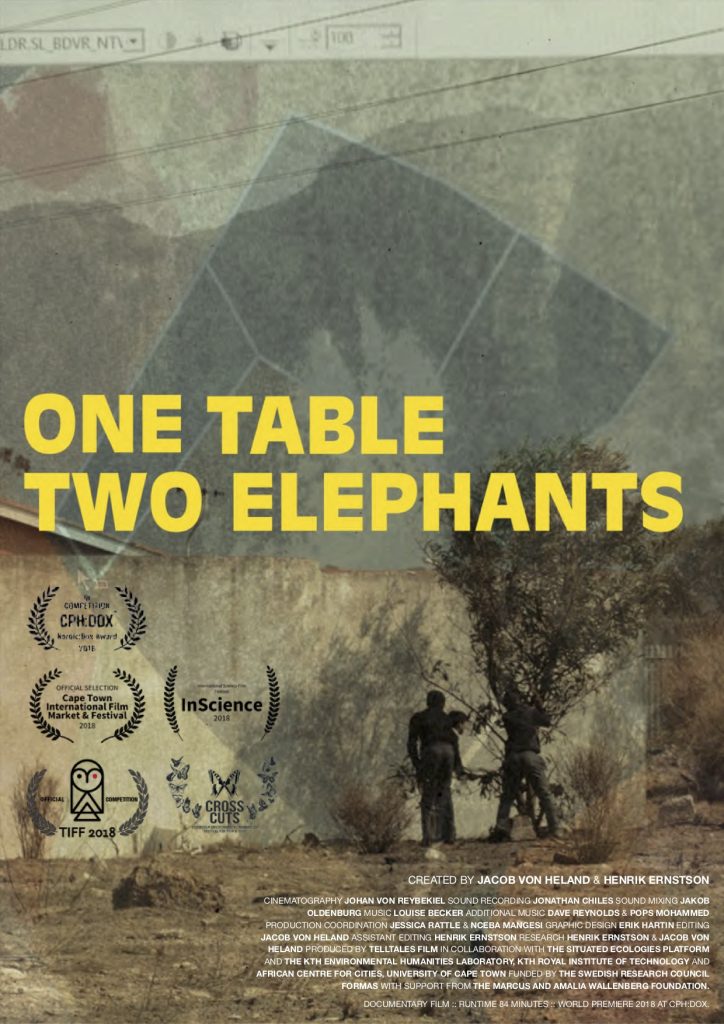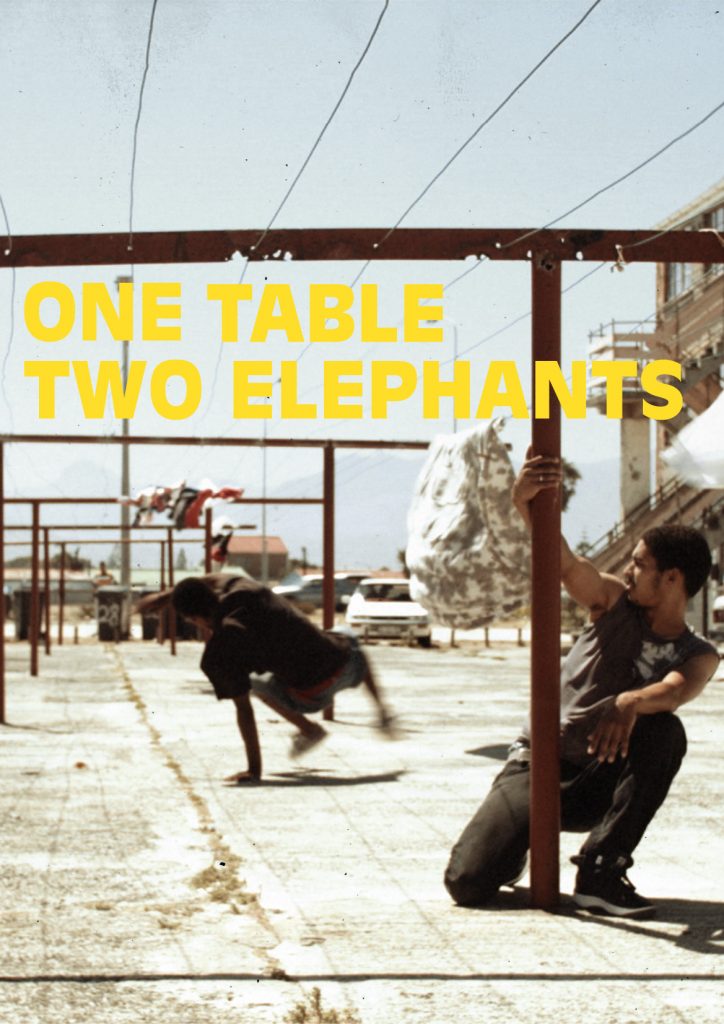 Categories: Film Project, Research Projects, WOK-UE